Japan scoops the major honours at Tokyo Judo Grand Prix
Comments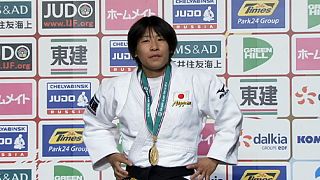 Tokyo's Judo Grand Slam started with a bang on day one as several world and olympic champions were straight into the fray, three in the women's events, and two in the men's.
Home advantage and four fighters in each weight category meant Japan made a strong showing.
Ami Kondo, only 19, showed why she recently became the -48 kilo World Champion dominating teammate Haruna Asami in the final.
In the -52 kilo class Yuki Hashimoto retained the title she won last year, and another Japanese fighter Yuka Nishida took silver.
In the -57 kilo class all eyes were on Kaori Matsumoto whose form dipped in the last world championships. But revenge was sweet, as she beat the winner in that competition, Portugal's Telma Monteiro.
In the men's competition South Korea's Won Jin Kim broke the Japanese monopoly on the medals in the -60 kilo class, beating Japan's Toru Shishime in the final. He must be getting tired of being a nearly man. Since February he has had three third-place finishes and a second.
In the -66 kilo class the new generation of Japanese judo stars again showed the future may belong to them; Higumi Abe is only 17, and this was his fourth title in four months, beating Israel's Golan Pollack.