Violinist Mae appeals four-year ski ban
Comments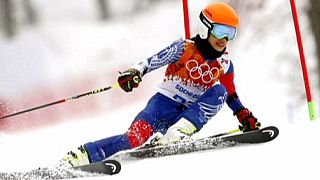 Pop violinist Vanessa Mae is appealing her four-year skiing ban for allegedly helping to fix a series of qualifying races that allowed her to compete in the 2014 Sochi Olympics.
The British citizen skied for Thailand at the Games under her father's name Vanakorn.
She was banned by the International Ski Federation in November after it ruled she helped to "manipulate" results in Slovenia to ensure her Olympic spot.
Her appeal is now being considered by the Court of Arbitration for Sport.
Mae finished last in the Olympic Giant Slalom out of 67 competitors – more than 50 seconds behind winner Tina Maze.