Israel oil spill 'worst in country's history'
Comments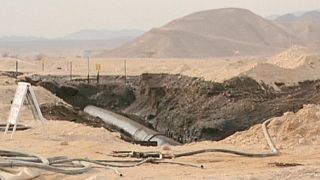 A river of oil covers the desert floor near the Israel-Jordan border.
Israeli nature reserve hit with oil spill http://t.co/RJMl3Z9MD2pic.twitter.com/U1Ir959njY

— Circa (@Circa) December 4, 2014
The Eilat-Ashkelon crude oil pipeline ruptured overnight on Wednesday, spilling millions of litres of crude oil into rivers and streams and through the Evrona nature reserve.
Another day another oil spill: "Oil Spill in Israel 'Will Take Months, if Not Years' to Clean" http://t.co/2WrTARDQnRpic.twitter.com/87gE4NlmpQ

— Planet Experts (@PlanetExperts) December 4, 2014
Authorities said it would take months if not years to recover from the damage.
"It is for sure one of the worst ecological disasters that has ever happened in our country," added Guy Samet, the Environment Ministry official in charge of southern Israel.
Police say it is likely the accident occured during maintenance work. However, Shaul Goldstein, director-general of the Nature and Parks Authority said that a full investigation into the oil company would determine whether the accident was an accident or the result of negligence.
The absence of heavy rain should limit the chances of the oil spilling into Eilat and endangering marine life in the Red Sea.
Though no damage was reported on the Jordanian side of the border, hydrogen sulphide was detected in the air around Aqaba and more than 80 people were hospitalised with breathing difficulties.