Lift-off letdown as NASA Orion capsule launch is postponed
Comments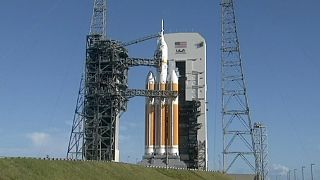 It was a lift-off letdown but NASA is hoping for better luck on Friday.
Gusty winds at Cape Canaveral on Thursday and a last-minute technical problem prevented the launch of its deep-space Orion capsule.
Unmanned for this test flight, it is eventually hoped that Orion capsules will fly astronauts to and from Mars.
NASA has spent more than $9 billion developing Orion, which will make a second test flight without crew in about four years.
A third mission, expected in around 2021, will include two astronauts on a flight that will send the capsule into a high orbit around the moon.
Since the end of the Apollo moon programme in 1972, the United States and the rest of the space-faring world have flown crews only into orbits that are a few hundred miles from Earth.
"This flight is a big step toward fulfilling a promise we made to the American people when we retired the space shuttle that we are going to take that money and build some incredible vehicles that can do amazing things," said astronaut Rex Walheim.