Anger in New York after no charges are made against police in a 'chokehold death'
Comments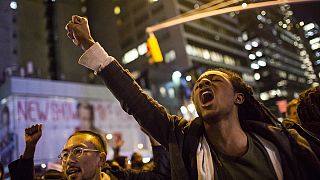 There have been more protests against the US justice system and the policing of minorities, this time in New York.
They were sparked by anger following another case of a grand jury not charging a police officer over the death of an unarmed black man.
Asthmatic Eric Garner died after being held in an alleged chokehold which is a banned police restraint. The incident was also caught on video.
Garner's mother Gwen Car has welcomed news of a Federal Justice Department investigation.
"How can we put our trust in the justice system when they failed us like this? They don't only fail me, they failed many of us, and if we don't take care of this, they may fail you in the future. We gotta make this right, and we're so happy that the Federal government is now talking again taking over and investigating."
One US Senator called Garner's death a "tragedy that demands accountability" while another defended the officer's actions saying Garner was a man resisting arrest and it was not clear it was a chokehold.
Forty-three year-old Garner died last July in Staten Island after being tackled by police for illegally selling cigarettes
The decision not to charge the officer comes just a week after another grand jury in Missouri didn't charge a white police officer who killed a black teenager in Ferguson