Al Qaeda militants in Yemen threaten to kill US hostage Luke Somers
Comments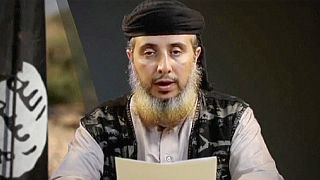 Al Qaeda militants in Yemen have released a video purportedly showing a British-born US hostage with the threat to kill him.
The 33-year-old journalist Luke Somers was said to have been kidnapped in the capital Sana'a in 2013.
.
"I'm certain that my life is in danger," Somers said in the video.
"So, as I sit here now I ask, if anything can be done please let it be done."
The militants gave Washington three days to answer their unspecified demands.
In the video, which could not be independently verified, a member of the militant group criticised the policy of President Obama, in particular drone strikes in Yemen as well as air strikes against other Islamist fighters.
According to the Bureau of Investigative Journalism over 900 people might have been killed between 2002 and 2014 in Yemen. During that period the US carried out over 200 strikes.