Jules Bianchi didn't slow down sufficiently before crash - FIA report
Comments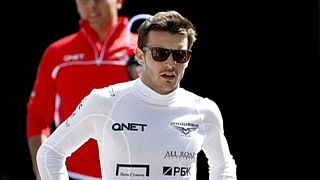 An FIA accident report has found that Marussia driver Jules Bianchi failed to slow down sufficiently under warning flags to avoid a crash that left him with severe head injuries.
The 25-year old Frenchman crashed into a recovery vehicle at 126 kilometres an hour in wet conditions at Japanese Grand Prix in October.
He was initially taken to a nearby hospital where he was placed in an artificial coma.
His condition improved mid-November to the point where he was able to breath unaided and taken out of the coma.
He was subsequently flown to an intensive care in Nice where he remains unconscious.
His team Marussia have since ceased trading after failing to find funding for next season.