Calls grow in Germany for heroic Turkish woman who lost her life protecting girls to be honoured
Comments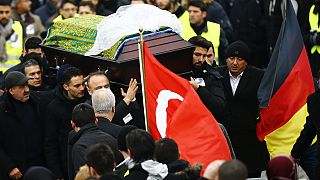 Popular pressure is growing in Germany for Tugce Albayrak, the 23-year-old Turkish student who was murdered while going to help
two women being attacked in a fast-food restaurant, to be given the country's highest civil honour.
The funeral was held on Wednesday, with supporters gathering in front of the clinic in Offenbach where doctors decided to end her life support following a violent impact to her head.
"I think this is a moving moment for everyone. She showed moral courage, and I think we owe it to her to be here, and to the parents as well," said one mourner.
"Appreciation for the girl; and for all who might find themselves in a situation like this – which I don't wish for, but you never know – for all of those, she stands as an example," said another.
Her death has ignited a furious debate in Germany on civil responsibility and civic courage in daily life. Germany's president says he is considering honouring Albayrak, and a petition calling for her courage to be officially recognised with a medal is heading towards
200,000 signatures.