Australia says goodbye to batsman Phillip Hughes
Comments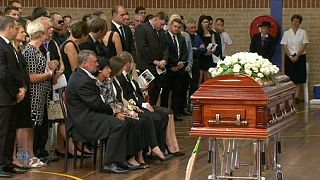 The funeral of the Australian test batsman Phillip Hughes has taken place in Macksville High School, in his hometown.
So rest in peace my little brother. I will see you out in the middle.
The ceremony was broadcast live coast-to-coast in Australia six days after Hughes was hit and fatally injured by a cricket ball.
Over 1000 people packed into the crowded school assembly hall to hear the eulogies, including Prime Minister Tony Abbott, and Hughes's teammates from the Australian national side led by captain Michael Clarke.
The freakish nature of this sporting accident in sports-mad Australia has stirred many people here, along with the young age of the victim. Hughes was just short of his 26th birthday, and many felt his huge
early talent was about to be rewarded with a recall to the test side
after 26 previous caps.
A consequence of his death is that the first test against visitors India has been at the very least postponed, and may now never be played.