Temporary truce declared in Donetsk
Comments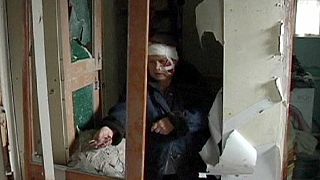 In Ukraine a temporary truce has been declared at Donetsk airport – a scene of fierce fighting between pro-Russian rebels and government forces.
The Ukraine military said it had held talks near the airport with Russia representatives.
In the last 24-hours three pro Kyiv soldiers have been killed and more than a dozen injured.
Despite the September peace treaty signed in the Belorussian capital of Minsk, fighting has continued with both sides accusing the other of breaking the accord.
Local people have borne the brunt of much of the violence. Over the last week two people were killed and others injured by shelling close to the airport.
Locals say that most people spend their time in the basements of their houses.