Sun Yang joins list of FINA World Championship absentees
Comments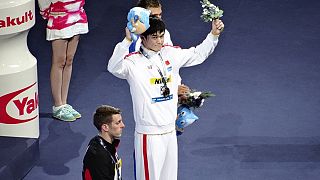 Double Olympic Champion Sun Yang is set to miss the FINA World Championships in Doha as the Chinese delegation announced their full team line-up earlier today.
The five time World Champion intends to focus on his winter training instead of competing.
The announcement will be a blow to the organisers of the Doha World Championships who are already suffering from the disappointment of a number of other major stars choosing to skip the bi-annual event for the same reasons.
However, the news comes days after it emerged that Yang had tested positive to Trimetazidine in May and served a three month ban in secret.
Although Yang had been cleared to compete at the World Championships which start tomorrow, officials from FINA and WADA, the international anti-doping agency, are still reviewing his case after it became clear that the Chinese Doping Association ignored various protocols.
The FINA Short Course World Championships will be held from 3-7 December in Doha.
Article by: Hugo Lowell
Image Credit: Lis Jákupsstovu