Namibia goes to the polls in Africa's first electronic election
Comments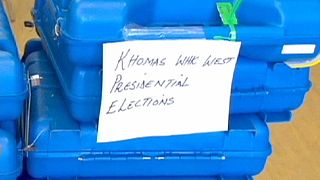 Voting is underway in the south-western African nation of Namibia.
The presidential and parliamentary elections are being held simultaneously and votes will be counted electronically – a first for Africa.
It is 25 years since Namibia's first democratic elections and its expected the ruling South West African People's Organisation will hold on to power.
"I am confident with this leadership", said one woman voter, while others are looking for change: "What I am expecting from the honourable people voted in to power is to really stick to their promises, to bring about change. We want to see changes. Namibia is a country with a small population, it's a manageable population", said this voter.
The current president, Hifikepunye Pohamba, has served two terms and is stepping aside. The favourite to take his place is the current Prime Minister Hage Geingob.
Around 1.9 million people have registered to vote with the official results expected to be announced on Sunday.