Ferguson, US democracy 'on trial'
Comments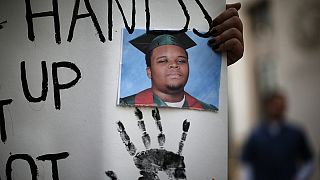 Protests over America's racial divisions erupted on Tuesday following the decision of a jury not to bring any charges against a white police officer who killed an unarmed black teenager. France 2 reported on the nationwide debate on black communities' relation to law enforcement.
Some Russian commentators compared the unrest in Ferguson with the protests in Kyiv which toppled the Ukrainian president. RTR state television described it as heading out of control, and a slap in the face for US democracy.
The conscience of the police officer who shot Michael Brown is 'clear'. Darren Wilson, interviewed on television for the first time, gave his version of the events, Italy's Rai Uno reported.
The Thanksgiving holiday saw some calm restored to the streets of Ferguson and elsewhere, but deep tensions over the country's racial divisions persist, Spain's TVE reported.