Black Friday shopping protest in Ferguson over Michael Brown shooting
Comments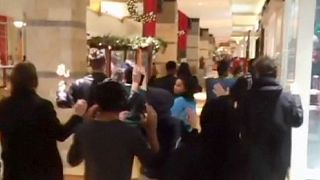 Protesters in Ferguson, Missouri, have targeted sales on America's Black Friday buying bonanza to vent their anger that no charges were brought after unarmed black teenager Michael Brown was shot by a white police officer.
About 75 demonstrators kicked off their latest strategy, overnight on Thursday, inside a Walmart store in another suburb of St. Louis.
They protested peacefully, chanting "Hands up, don't shoot!", bemusing bargain-hunters pushing their brimming shopping trolleys.
The demonstrators dispersed peacefully when ordered by a small group of police, moving on to another store where they staged a similar protest. More were planned for later on Friday.
A tense calm remains in Ferguson after nights of rioting following a grand jury's decision not to charge Darren Wilson over the killing in August. His lawyer has confirmed that Wilson is to leave the police force.
The family of 18-year-old Michael Brown want police to carry cameras and record their work on patrol.
They reject Wilson's claim that he shot in self-defence and believe he should stand trial.
National Guard troops and military vehicles have been deployed to help quell violence in Ferguson; its population of some 21,000 is predominantly black but almost all the political leaders and police are white.