Thanksgiving turkey pardoned by president
Comments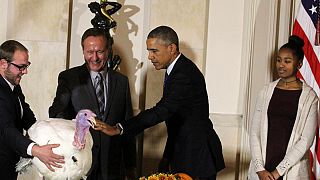 A turkey named 'Cheese' has pulled a lucky straw and has won a reprieve from becoming the main course at an American Thanksgiving meal.
In the traditional manner US President Barack Obama has pardoned a turkey after a public vote.
It means 'Cheese' will live out his days on a Virginia farm and never end up on a dinner plate.
US presidents have been pardoning turkeys
since the 1800s as part of the country's national Thanksgiving holiday, when roasted turkey is the traditional main course.
Since 2012, the top turkey has been chosen by public vote.