Spain PM Rajoy asks for pardon over party corruption scandal
Comments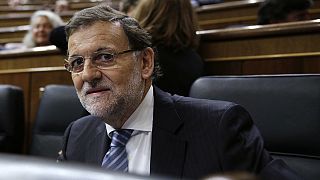 "Most politicians are decent people."
So says Prime Minister Mariano Rajoy, trying to reassure Spain's parliament and public on Thursday – the day after his health minister became the first government casualty in a series of cases of alleged corruption.
He also presented measures aimed at cleaning up politics.
"I understand the irritation and mistrust of the Spanish people and I share it," Rajoy said.
"Everyone knows that corrupt individuals have emerged in my party – people who had earned my trust and that of the party. I have asked forgiveness for that."
Health Minister Ana Mato stepped down on Wednesday after a judge said she had "personally profited" from crimes allegedly committed by her ex-husband, linked to a kickbacks-for-contracts scandal involving Rajoy's conservative Popular Party.
Protesting her innocence in a resignation statement, Mato stressed that she had not been charged with any crime.
One of the draft laws presented by Rajoy covers financing of political parties and the other aims to improve transparency and prevention of conflict of interests in government roles.
Neither is new; they have been stalled in parliament for months as the Popular Party sought consensus with other parties and to incorporate amendments before they go to a vote.
Support has been ebbing from the PP and Spain's main opposition Socialists, with newcomer, the anti-establishment Podemos party racing ahead in opinion polls.