NATO concern over Russian planes in Crimea
Comments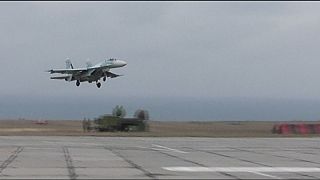 The Russian air force has sent 14 fighter jets to Crimea, the territory it annexed from Ukraine in March.
As they landed in Belbek, a senior commander said the creation of a new airborne regiment would help safeguard Russian interests in what he called "southern Russia".
NATO's top military commander has said he's concerned about Russian militarisation of the Crimean peninsula.
Visiting Kyiv, US Air Force General Philip Breedlove also repeated the alliance's accusations that Russia has deployed troops and military equipment to eastern Ukraine.
"We don't see combat formations but we see troops that are there specifically to get backbone, guidance and training to the Russian-backed forces in the east," he told a news briefing.
Moscow categorically denies the claims.
Earlier this month tanks believed to be operated by pro-Russian rebels were filmed driving through Shakhtarsk on their way to separatist-controlled Donetsk.
NATO's commander pledged support for Kyiv.
"The US remains firmly committed providing finances, equipment and specialised expert advice to Ukraine to help security forces here respond more effectively to defend against the attacks they are facing daily from Russian troops and the Russian-backed forces in the east," General Breedlove said.
In September NATO and Ukraine carried out joint military exercises in the west of the country, something Moscow had warned the Western alliance not to do.
The new pro-Western coalition in Kyiv has made NATO membership a priority.
Since Russia's annexation in Crimea and the bloody conflict with pro-Russian forces in eastern Ukraine the idea of NATO membership has become more popular.
President Poroshenko, who met the NATO chief during his visit, has promised a referendum on the subject at some stage.