Violence erupts in Ferguson after grand jury shooting decision
Comments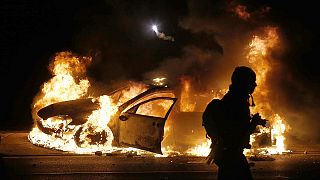 Gunshots rang out and bottles and rocks were thrown as protester violence erupted onto the streets of Ferguson, Missouri.
Anger boiled over following the decision by a grand jury not to to charge a white police officer in last August's shooting of black unarmed teenager Michael Brown,.
Police on Monday evening reacted with tear gas and smoke bombs in a bid to disperse the crowds.
President Barack Obama immediately called for protesters to remain peaceful and for police to show restraint.
"First and foremost we are a nation built on the rule of law and so we need to accept that this decision was the grand jury's to make.
There are Americans who agree with it and there are Americans who are deeply disappointed – even angry. It's an understandable reaction. But I join Michael's parents in asking anyone who protests this decision to do so peacefully."
More protests have sprung up in several other US cities including Los Angeles and Seattle.
The death of 18-year-old Michael Brown has become a flash point in US race relations.
Monday's decision by a grand jury not to indict officer Darren Wilson in the teenager's shooting was greeted with disappointment by the youngster's parents.