Rebel leaders call for UN peacekeepers to help crisis-hit eastern Ukraine
Comments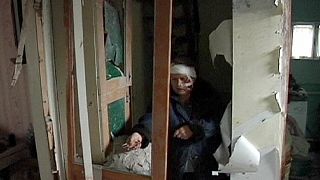 Separatists in eastern Ukraine have asked the United Nations to send international peacekeepers to the crisis-hit region.
A statement issued by the leader of the self-proclaimed Donetsk People's Republic called for "the intervention of a peacekeeping force that includes Russian representatives to control the implementation of existing agreements and help resolve the humanitarian and social situation."
One pensioner wounded when a shell hit her Donetsk home said: "I have no idea how I survived. I am sitting on the floor and this hole is right in front of me, and I am covered with doors, pieces of wall…"
It is not clear who was behind the shelling. Separatists and Kyiv have accused each other of breaking a truce, however Ukraine's military spokesman said "terrorists" should bear responsibility.
Ukrainian military spokesman Andriy Lysenko said: "We have to admit that terrorists are actively using the new tactics of sequential shelling. First they fire at our troops' positions and then they start firing at residential areas."
A garage, a public bus and a school were hit by shells in the Donetsk region.
This comes amid a standstill in diplomatic efforts to end the conflict in which the UN says more than 4,300 people have been killed.