Obama accepts Chuck Hagel's resignation from defence post
Comments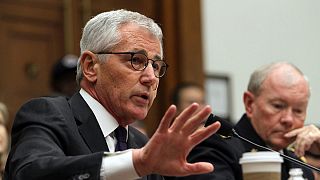 US President Barack Obama has lost yet another defence secretary with the resignation of Chuck Hagel. His going comes as no surprise with it widely known the two men were at odds over national security challenges.
Still Obama paid tribute to Hagel'contribution:
"Last month, Chuck came to me to discuss the final quarter of my presidency and determined that having guided the department through this transition, it was an appropriate time for him to complete his service."
Chuck Hagel gave an emotional response:
"As the president noted, I have, today, submitted my resignation as secretary of defense. It's been the greatest privilege of my life – the greatest privilege of my life to lead and most important, to serve."
Hagel was appointed less than two years ago with the brief to wind down wars in Afghanistan and Iraq – a policy which is being revised.