Male violence against women 'a global health epidemic'
Comments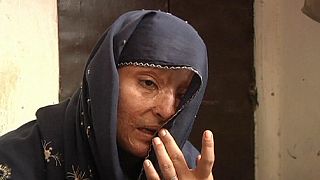 On the UN-designated International Day for the Elimination of Violence Against Women, around 1,000 shouting 'my dress, my choice!' protested in the Kenyan capital, Nairobi. It followed attacks of women being stripped naked and assaulted in public for wearing mini-skirts. Cellphone videos show men swarming and appearing to kick the women in the groin.
The attackers were fined one euro.
Human rights activist Cecilia Brenda Onyango condemned the failure to defend and uphold justice: "Women have been subjected to a lot of violence lately, not only stripping; there has been sexual violence, there has been rape, and you can not narrow it down to the [way of] dressing because we've had 80-year old grandmothers raped and we've had seven-year old kids raped."
Medical journal The Lancet in its latest report calls the violence a 'global public health and clinical problem of epidemic proportions.'
It says that as many as 140 million women have undergone genital mutilation worldwide, and that three million African girls per year risk having it done to them; seven percent of women will be sexually assaulted by someone besides their partner in their lifetimes; thirty percent of women worldwide have experienced violence from their partners.
In Pakistan, Ruqayya Parveen's husband, drunk, poured acid on her while she lay sleeping with her children. It destroyed one eye and one ear. The boys, aged from two to eight, also received burns. The pain 18 months after it happened still prevents her from sleeping. She can't work, and says she feels abandoned.
Parveen said: "I'm a victim of an acid attack today, and tomorrow someone else will suffer the same fate because the law isn't for poor people like us. The law is only for the rich. Poor people like me have no hope of getting justice. Every time I pray, I curse my husband from the depths of my heart."
A twisted view of rights and control led to the murder of the beauty contestant Miss Honduras recently, when her sister's boyfriend shot both of them at a party in a fit of jealousy, after his date danced with another man.