Ennahda supporters crucial to Tunisia presidential vote
Comments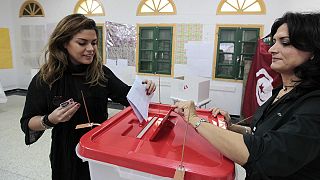 Tunisians are heading to the polls on Sunday to vote for a new president, a month after parliamentary elections were held.
The country which kick-started the Arab Spring is completing its transition to democracy after the 2011 revolution.
More than five million voters will choose between 27 candidates.
Beji Caid Essebsi, seen as the frontrunner, turns 88 next weekend.
He leads the Nidaa Tounes party which won the most parliamentary seats.
He has promised stability in the face of economic stagnation and a rise of Islamist terrorism.
His critics stress his links to the one-party rule of deposed president Ben Ali.
His main opposition comes from Moncef Marzouki, an academic and human rights activist who has served as president since 2011.
He casts the vote as a ballot against the return of former officials from the old regime.
Marzouki is counting on the support of Ennahda. The moderate Islamist party which held power for two years has not put forward a candidate, so its backing could prove key.
If no candidate wins a clear majority it will go to a second round to be held on December 28.