The children getting an education in a war zone
Comments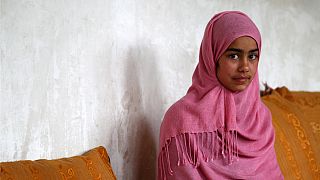 According to a recent paper by UNESCO, half of the 57 million children currently out of school live in conflict zones. Despite urgent calls by the international community to address the problem, many schools are still targeted while others serve as shelters. So how do students cope? This week we visit some areas affected by war and conflict to find out.
Iraq – schools and shelters
Northern Iraq has recently suffered deadly attacks that have caused thousands of people from the Yazidi minority to flee their homes. In this Kurdish province, for example, many schools are now serving as shelters for the displaced families. Is there still space for learning in such conditions?
Ukraine – a whole new world
For families who have been forced to leave their homes because of conflict it can be difficult to integrate into new societies with different languages and cultural backgrounds. In this report from Ukraine we take a look at the situation for the children of displaced Crimean families and find out how some teachers are trying to help.
Afghanistan – teaching peace
Afghanistan has suffered decades of war and many young people have grown up alongside violence and bloodshed. We visit one project that is working with young Afghans to encourage them to reject violence and aggression and embrace peace. How can it make a difference? Let's find out in this report.