Deadly weather costing lives and livelihoods
Comments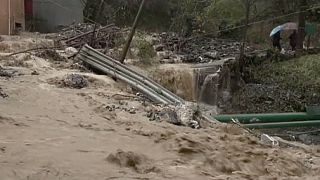 Heavy rain in Europe has brought death and destruction. The toll in Switzerland, France and Italy has risen to one dozen since mid October. Genoa was one of the regions hit worst, RAI2 reported.
Northern Italy's Piedmont, Lombardy and Liguria regions were affected the worst in northern Italy by rivers overflowing. The Po burst its banks, RAI1 reported.
In France, rain-swelled rivers carried away vehicles in several places in the south. The force of the precipitation was attributed to unusually high temperatures in the Mediterranean, the sort of phenomenon which will require adapting to, France2 reported, in Britain.
The state of NY had its first major snow storm early, with loss of life. It came just a few days after the agreement of the US and China to make reductions in their emissions of gases that affect our climate, Spanish TVE reported.