'Rich' widow accused of poisoning fourth husband with cyanide
Comments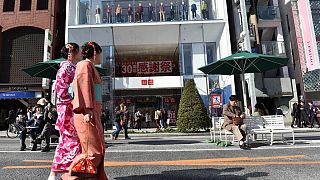 Japanese police have arrested a seven-time widow who they believe killed her fourth husband by poisoning him with cyanide, according to press reports.
Chisako Kakehi, 67, has inherited 800-million yen (5.5m euros), say news agency Jiji Press.
News reports have dubbed Kakehi the 'black widow', so called because her alleged behaviour is like the female spider species that eats her male companion after mating.
Kakehi, arrested on Wednesday (November 19), vehemently denies the accusation.
Isao Kakehi, her fourth husband, fell ill suddenly in December 2013. He died in hospital, two months after their marriage. An autopsy revealed traces of cyanide in his blood.
Three months earlier a 75-year-old boyfriend died after falling ill suddenly while the couple were dining at a restaurant.
Her first husband died in 1994, age 54. In 2006, her second, who she met through a dating agency, died of a stroke at age 69. Her third husband, also met a sad end, dying in 2008 age 75, reported Jiji.
"We think she did it for the money," said an investigator, referring to her fourth husband.
"We can not say how many. Because of their advanced age, we must be careful," a police source told AFP news agency.
In 2012, Kanae Kijima was given the death sentence for murdering a trio of men she met on the internet. She used gave them sleeping pills before poisoning them with carbon monoxide. She is awaiting an appeal of this decision.
Miyuki Ueta, a former bar worker, is also waiting on a ruling by the Supreme Court, having been given a death sentence for murdering two men.