Norway pledges millions of Euros in financial assistance to Ukraine
Comments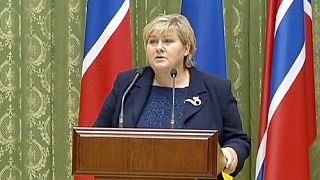 The Norwegian Prime Minister Erna Solberg has been in Kyiv holding talks with her Ukrainian counterpart Arseny Yatseniuk.
She is the first Norwegian Prime Minister to visit Ukraine.
Solberg announced financial assistance of around 100 million euros to Kyiv and criticised what she said was Russia's role in the conflict in eastern Ukraine.
"Norway has condemned Russia's actions. The focus now should be on de-escalating the tensions on the grounds and continuing the process to find a political solution. The Minsk protocol provides a solid basis. All parties should implement their commitments in full".
Russia denies any military involvement in the region.
Norway has already frozen military relations with Russia and taken part in sanctions against Moscow.