Keystone pipeline fails in Senate
Comments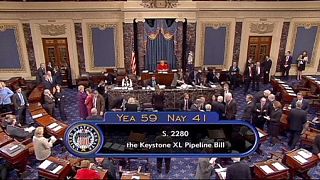 The US Senate has failed to back a bill approving the construction of the controversial Keystone XL pipeline.
The measure fell short of the 60 votes needed but an unenthusiastic President Obama had been expected to veto the bill.
While supporters say it will create jobs, critics have raised environmental objections.
The 1408 km pipeline had been planned to carry oil from Alberta, Canada, to the US state of Nebraska, joining pipes running to Texas.
The project was designed to carry 830,000 barrels a day.