'No grounds for optimism' on Ukraine stand-off, says Steinmeier
Comments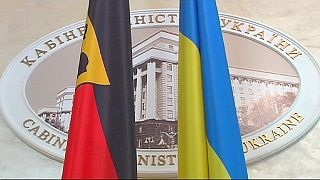 The German Foreign Minister has said there are no grounds for optimism in the stand-off between Ukraine and Russia.
Walter Steinmeir made the comments at a joint news conference with his Russian counterpart.
In an appeal to the emotions he said that Europe was at a crossroads, "25 years after the fall of the wall we are threatened by silence instead of dialogue, compartmentalisation instead of exchange and confrontation instead of cooperation."
The Russian Minister agreed with Steinmeier on the need to put an end to the conflict between Ukrainian forces and the pro-Russian rebels in the east, and urged talks between both sides.
"The continuation of a stable dialogue between Kyiv on the one side and Donetsk and Luhansk on the other is the most important task now, especially in the context of the elections that took place in Ukraine and in that part of the Ukrainian territory that is controlled by the representatives of Donetsk and Luhansk".
Kyiv has refused all direct talks with the rebels whom they refer to as 'terrorists'. Euronews correspondent Angelina Kariakina in the Ukrainian capital explains that:
"Ukraine is suggesting yet another format of talks – Geneva-like. Where as well as Ukraine and Russia, the EU and the US also participated."
Speaking earlier in Kyiv Steinmeier said that everything possible must be done to avoid a situation similar to the summer when a major military confrontation became a real danger.