Kerry condemns synagogue attack as "an act of pure terror"
Comments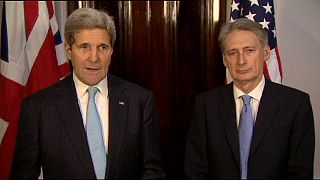 US Secretary of State John Kerry joined with his host in London the British Foreign Secretary Phillip Hammond in condemnation of the deadly attack on a Jerusalem synagogue.
"An act of pure terror," he said and called for restraint as tensions in the region soared.
"This kind of act which is a pure result of incitement of calls for days of rage of just irresponsibility is unacceptable. So the Palestinian leadership must condemn this and they must begin to take serious steps to restrain any kind of incitement that comes from their language from other people's language and exhibit the kind of leadership that is necessary to put this region on a different path," he told reporters.
British Foreign Secretary Phillip Hammond echoed John Kerry's sentiment condemning absolutely the killings and stressed the need for both sides to take immediate action to do everything possible to de-escalate the situation.