#YaMeCansé: Mexico's desperate rallying cry
Comments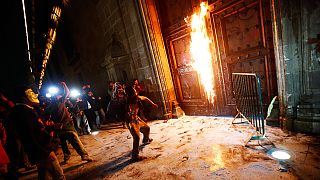 The blunt words of Mexico's attorney general Murillo Karam, which sparked outrage nationwide, have become the rallying cry of throngs of Mexicans in the streets and on social media as they protest corruption and violence.
Australian news website News.com.au describes Karam's press conference on the missing 43 students where the words were uttered first for the first time: "after an hour of speaking, Murillo Karam abruptly signalled for an end to questions by turning away from reporters and saying, "Ya me canse" — a phrase meaning 'Enough, I'm tired.'"
The insensitive remark fanned the fire of resentment against the government, triggering violent reactions. Protesters in Mexico City attacked the presidential palace in the latest expression of revulsion at the apparent massacre of 43 trainee teachers. The wooden door of the palace was briefly set alight but the protesters did not manage to enter the building.
Mexico presidential palace attacked amid rage over missing students
On social media, the hashtag #YaMeCanse is the top trending topic in Mexico and has been used hundreds of thousands of times. According to Twitter analytics website Topsy, the hashtag has been used almost 580,000 times since Saturday.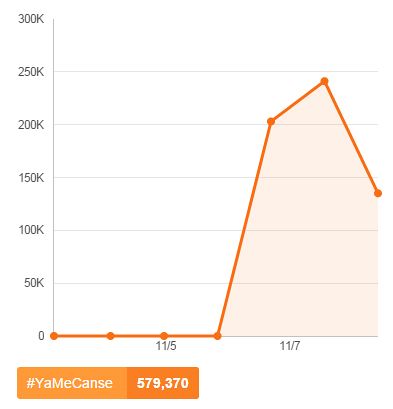 En route to China, Mexican President Enrique Pena Nieto condemned the violent demonstrations. "It's unacceptable that someone should try to use this tragedy to justify violence," Pena Nieto told reporters at the airport in Anchorage, Alaska. "You can't demand justice while acting with violence."
The students were abducted by corrupt police in southwestern Mexico in September, Reuters report. Though the government said on Friday it looked as though the students had been killed, then incinerated by gangsters working with the police, it stopped short of confirming their deaths for lack of definitive evidence.
Pena Nieto's trip to China has infuriated protesters and relatives of the students, who believe he cares more about Mexico's business interests than trying to deal with the gang violence that has ravaged much of the country for years.
Some #YaMeCanse tweets
#MexicoCity: #YaMeCansé del miedo. "I'm tired of fear." pic.twitter.com/oKxgbZvMzT

— ѕyndιcalιѕт (@syndicalisms) 8 Novembre 2014
Marcha #Veracruz#PRESENTE#AccionGlobalAyotzinapa#YaMeCanse@TuiteraMx@Adolfo_ZapataMx@LizbethGraillet@Malu2verapic.twitter.com/3FkrBv44ei

— GuerraCruz (@zonadeterror) 9 Novembre 2014
"You are not alone, your anger is also ours": indigenous Zapatistas of Chiapas #AccionGlobalporAyotzinapa#YaMeCansepic.twitter.com/3gFlFcIQcT

— ѕyndιcalιѕт (@syndicalisms) 9 Novembre 2014