High on the agenda: marijuana a key issue in 2014 US Midterm elections
Comments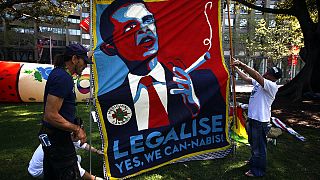 On November 4, several US states will vote on whether to follow the trail blazed by Colorado and Washington and relax their marijuana policies.
Here is a breakdown of what the voters face in the polls:
Old fears going up in smoke
If these votes stand to help the marijuana legalisation movement gain nationwide momentum, it is also because long-standing public fears about cannabis are going up in smoke.
A Pew Research Center survey conducted in mid-October showed 52% of US citizens are in favour of marijuana, while 45% want it to be illegal. According to the same survey, the trend crossed for the first time ever earlier this year. To put things in perspective, a 1969 Gallup survey showed a mere 12% of the US population supported legalisation when a whooping 84% wanted it illegal.
The general downward trend accelerated in recent years, as "support rose 11 points between 2010 and 2013" Pew Research analyst Seth Mothel wrote .
"Separately, 76% in [the Pew Research Center] February survey said people convicted of minor possession should not serve time in jail." Also telling is the fact that 69% of Americans believe alcohol is more harmful to a person's health than marijuana, according to Pew.
However, while the Pew survey says almost half (47%) of Americans say they have tried marijuana, the majority of the public is not yet fully comfortable with it. Indeed, 63% of Americans say they would be bothered if people did their smoking in public.
Nevertheless, the 2014 midterm votes on marijuana could be a watershed moment for marijuana legalisation, paving the way for more state initiatives in 2016, as attitudes change and the legalisation idea goes mainstream. For John Hudak and Philip A. Wallach, two fellows at the Brookings Institute, a policy think tank: "regardless of what voters in Oregon, Alaska, and the District of Columbia decide on November 4th, we can expect the legalisation movement to expand and for 2016 to be the most crucial year for cannabis in the United States."
And the tax revenue jackpot, which according to some studies, could top 3 billions dollars per year if marijuana was legal in all 50 states, could be be another motivating factor for many cash-strapped states.