Ukraine election: Yuriy Lutsenko tells euronews about coalition talks
Comments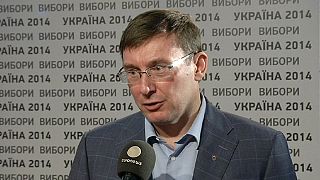 Early results of Ukraine's parliamentary election show what appears to be a victory for pro-Western parties.
President Petro Poroshenko and Prime Minister Arseniy Yatseniuk each took around 22% of the vote.
But there was no voting for areas of Eastern Ukraine that remain under the control of pro-Russian separatist rebels.
The polls were the first since pro-Russian leader Viktor Yanukovych, was driven from power in February.
Euronews spoke to Yuriy Lutsenko, the leader of the Petro Poroshenko bloc to find out more about talks to form a coalition.
Dmytro Polonsky, euronews
Yuriy Lutsenko, who will you now look to build a coalition with?
Yuriy Lutsenko, Petro Poroshenko Bloc
Our victory, as well as the victory of other pro-European parties, presents Ukraine with a chance to implement quick reforms that were sadly ignored for many years.
So the first thing we are going to do is offer our colleagues a coalition agreement with a timetable for implementing dozens of reforms needed for the European integration of Ukraine.
It will be about the pace of reforms rather than distribution of posts and ministerial portfolios. It's critically important for us to be able to take important decisions very speedily, as a team. This is why we are saying today: forget about the victory, who came first, who was second etc. We are offering to unite a big Ukrainian team that is moving towards the EU.
Dmytro Polonsky, euronews
Your party has confirmed that the draft coalition agreement is almost ready. Could you give us some more details?
Yuriy Lutsenko, Petro Poroshenko Bloc
There are so many reforms needed that we will have to move in many directions: the reform of the judiciary, of the tax system, of law enforcement agencies, local governance and public service.
We are talking about razing to the ground this old Soviet jail house and building the strong foundations of our future European home.
The message from voters is clear: they put the President's party in the lead; thus supporting his course towards the EU. People also gave the vote of confidence to Prime Minister Yatsenyuk and his party, and also brought to parliament the new party of pro-European activists. This party will be a serious challenge to the more established older parties and whose objective is to implement quick and radical pro-European reforms.
Dmytro Polonsky, euronews
Can we expect that after the election results are announced the ceasefire agreement will be abandoned in the East, because it seems Government forces cannot respond adequately to daily attacks by the separatists?
Yuriy Lutsenko, Petro Poroshenko Bloc
We stick strictly to all conditions of the ceasefire agreement. But when our checkpoints or positions are attacked – we respond accordingly. We want peace, and taking into account the international support and solidarity with Ukraine, there's a chance for peace. There are also huge expectations that Russia can somehow be forced to stick to its promises and obligations under the agreement, and this will allow us to liberate Ukrainian soil with less bloodshed.
But we also say openly and honestly that we are using the ceasefire to modernise and strengthen the Ukrainian armed forces. Of course we want less blood and quick results. But the voters supported the careful and sensible approach. The parties that advocated an all-out attack and storming of rebel-held cities lost in the election, they got less votes than they hoped for. On the contrary all "parties of peace" got more support.
Dmytro Polonsky, euronews
Let's talk about changes. Before now, you've called for the head of law enforcement to be dismissed after the election. We are talking about the Prosecutor General, Interior Minister and Security Service chief, right?
Yuriy Lutsenko, Petro Poroshenko Bloc
If we don't get quick results from investigations into cases of corruption and the criminal activities of the old regime, then the law enforcement chiefs will be replaced. But they still have a chance to complete this task and they are working on it.