Ukraine elections likely to fuel tension between Kyiv and Moscow
Comments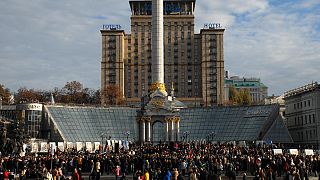 How will Ukraine's elections affect its uneasy relationship with Russia?
Many of the MPs who get elected are likely to have strong negative opinions about Moscow and won't be afraid to voice them.
A wholly different party structure will also complicate the Kyiv parliament's dealings with Russia.
It is not expected that the elections will calm the two countries' tensions.
Last week, their presidents met in Milan but achieved little. They discussed Russian gas supplies to Ukraine. Since then, the Kremlin has said, they have stressed the importance of supporting the peace process in Ukraine and of observing the ceasefire in the country's south-east.
On Sunday, pro-Russian separatists in Donetsk, capital of the Donbas region where fighting continues, celebrated their first national day. They ratified their self-declaration as a distinct republic in May this year.
This seemed to demonstrate that they won't be returning to the fold with Kyiv soon, or participating in the polls. So they and Moscow condemn these elections as illegitimate.
Russia says it is having nothing to do with the poll in any way. But, as printers scrutinised blank ballot papers ahead of the big day, Russian Foreign Minister Sergei Lavrov's message delivered in Paris at the weekend could easily have been construed as possessive.
Lavrov said: "We cannot lose Ukraine, because Ukraine is not a group of individuals who have committed a coup and seized power. Ukraine is not those Nazis who continue to march in Kyiv and other big cities, who commit acts of vandalism, destroy monuments and praise Hitler's accomplices. Ukraine is the closest of brotherly nations to us."
With certain outgoing deputies alleged to be in the pay of oligarchs, the old parliament was a shop for deals rather than voters' interests.
The next parliament is expected to be pro-Western and nationalist.
Russia's not going to like it.