British soldiers reinterred 100 years after their deaths
Comments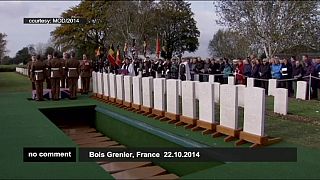 The remains of 15 British soldiers who fought and died during the Great War have been reinterred, almost 100 years to the day after the men died.
A specialist team organised by the British Ministry of Defence was able to identify 11 of the 15, using DNA samples taken from the remains, which had been discovered five years earlier.
Remains are usually uncovered during excavation, but can also be washed up during heavy flooding.
According to estimates by the Commonwealth War Graves Commission, up to 30 sets of Commonwealth forces' remains are found each year in Western Europe. However a spokesman for the Commission reportedly commented on the rarity of identifying such a high proportion of remains from a single find. Earlier in 2014, 20 British soldiers were reburied, after specialists were only able to identitfy one man.
In the case of 11 of the 15 reburied in October 2014, experts were able to pinpoint the date of death – October 18, 1914 – and discovered the soldiers fought in the 2nd Battalion, York and Lancaster Regiment.
The fallen men were awarded full military honours in a ceremony in Bois-Grenier, near Lille, northern France. Approximately 140 of their relatives attended, alongside several hundred local residents.
Marlene Jackson's great uncle Herbert Ernest Allcock was among those identified. She told the British media of her admiration for those involved in identifying the remains.
"The first we knew of it was a phone call out of the blue telling us that they had found the remains of these First World War soldiers in France and they were going to do their utmost to find who they were and asking if I would send DNA," she said, adding: "Until you are involved with it, you just don't realise that this is all going on. I have nothing but admiration for the people who identify the bodies. I think they are superb."