Watch: Typhoon Vongfong hits south Japan
Comments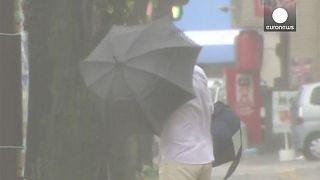 The strongest storm to hit Japan this year battered the southern islands of Kyushu and Shikoku early on Monday, brought heavy rain to Tokyo and caused extensive travel disruption.
Typhoon Vongfong has forced the cancellation of more than 500 domestic flights, the public broadcaster NHK said. At least one overseas flight was cancelled, according to an airline.
Many trains in western cities were also suspended, NHK said.
More than 820,000 people have been urged to leave their homes, it said. About 4,900 households in Tokyo suburbs were without power, media said.
Rain in Tokyo was expected to intensify overnight.
Vongfong battered the southern Japanese island of Okinawa, 600 km (1,000 miles) south of Tokyo, as well as Kyushu and Shikoku islands, injuring 59 people, NHK said.
On Sunday, the wind weakened significantly from the previous day when it reached a peak of 234 kph 146 mph), which had made Vongfong into a "super typhoon".
Tokyo Electric Power Co, the operator of the crippled Fukushima nuclear power plant, said in a statement it had also increased the water transfer and storage capacity to prevent an overflow of radioactive water being stored at the plant.
A major baseball game in Osaka city, between the Orix Buffaloes and the Hokkaido Nippon-Ham Fighters for the Pacific League playoff, was also postponed. It was the first time a Nippon Professional Baseball playoff game was cancelled because of a typhoon.
Source: Reuters