European police begin controversial hunt for thousands of 'irregular' migrants
Comments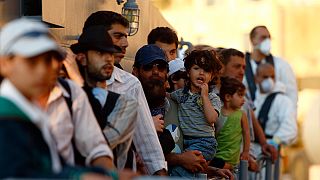 A Europe-wide police operation has been launched in an effort to detect, detain and potentially deport tens of thousands of so-called "irregular" migrants; people living clandestinely, without official documentation permitting them to stay.
Coordinated by Italy, the 14-day Operation Mos Maiorum will see some 20,000 police officers from 25 countries stake out railway stations, bus depots and motorways throughout the continent.
It is a controversial move. While Europeqn Union officials say the operation is integral to the combat of human smuggling rings, rights groups have denounced it as inhumane.
The migrants being sought out are, in many cases, people who have escaped dangerous conditions in their homelands and are searching for safety, according to Karl Kopp, the Director of European Affairs at ProAsyl, a non-profit foundation based in Germany.
"Mos Maiorum is an anti-refugee operation," he said. "Refugees are a target of this operation, let's be clear."
Unofficial estimates of the number of irregular migrants in the EU range from 150,000 to 450,000 people. However no officially certified data exists.