Video: Chelsea Clinton presents baby Charlotte alongside proud grandparents Bill and Hillary
Comments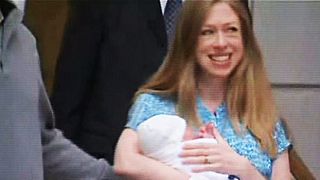 Chelsea Clinton, the former 'first daughter' of the United States left a New York hospital on Monday with her baby daughter Charlotte Clinton Mezvinsky, husband Marc Mezvinsky and proud grandparents Bill and Hillary.
The extended family paused for pictures on the steps of the Lenox Hill hospital before getting into waiting cars.
Chelsea Clinton announced the birth of her daughter on Twitter and Facebook early on Saturday but didn't release any other details of the birth. "Marc and I are full of love, awe and gratitude as we celebrate the birth of our daughter, Charlotte," she said
Chelsea's parents, the former President and former Secretary of State, released a statement saying: "Chelsea is well and glowing. Marc is bursting with pride. Charlotte's life is off to a good start."
Chelsea Clinton announced her pregnancy in April while sitting side-by-side with her mother on a stage at a New York City event on empowering women.
It remains unclear if the birth of the first Clinton grandchild will affect the political ambitions of Hillary Clinton, who is considering running for the White House in 2016.
In 2011, former President Bill Clinton told reporters in Davos, Switzerland: "I would like to have a happy wife, and she won't be unless she's a grandmother … It's something she wants more than she wanted to be president."
(with agencies)