Watch: Huge statue of Lenin torn down in eastern Ukraine
Comments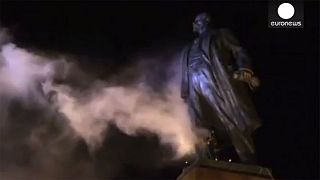 Protesters have torn down a statue of Russian revolutionary Lenin in eastern Ukraine – a move unlikely to help an already fragile ceasefire.
The monument, reportedly one of the biggest of its kind, was toppled in Kharkiv, Ukraine's second largest city.
The monument to the Soviet leader had been protected by a counter protest from a cull of Lenin statutes in February.
Ukrainian interior minister Arsen Avakov posted a statement on Facebook that Kharkiv police were focused on public safety rather than protecting the statue at the demonstration.
The removal of Lenin statues gained momentum during Ukraine's anti-government protests.
Estimates claimed, by February 2014, around 90 had been torn down.
Lenin, leader of the Communist revolution in 1917, is seen as a symbol of Russian dominance.