Militants release video of British hostage
Comments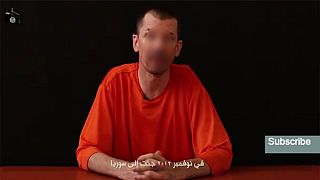 Militants have released a video of a British captive who says he will tell "the truth" about the Islamic State in a series of programmes.
The video, entitled "Lend Me Your Ears", features a man dressed in orange who calls himself John Cantlie, formerly of the Sunday Times, Sun and The Sunday Telegraph. He says he was captured in Syria after arriving in the country in November 2012.
After two years of captivity he says many things have changed including the expansion of the Islamic state to include large swathes of eastern Syria and western Iraq … "a land mass bigger than Britain and many other nations".
Cantlie says he is not making the video because he is a prisoner with a gun to his head … but seeing as he has been abandoned by his government he has nothing to lose.
"Maybe I will live and maybe I will die."
Many European citizens were imprisoned and released by the Islamic State but the British and American governments thought they could "do it differently" to the others, he claims. While all the other nations negotiated and got their people home the "British and Americans were left behind".
"Over the next few programmes," Cantlie says, "I am going to show you the truth as the western media tries to drag the public back to the abyss of another war with the Islamic state.
"After two disastrous and hugely unpopular wars in Afghanistan and Iraq, why is it that our governments appear so keen to get involved in yet another unwinnable conflict?"
The video comes a week after militants released a video of showing the death of Briton David Haines and days after aid worker Alan Henning was seized in Syria.