Watch: Angry mob throw Ukraine MP into rubbish bin
Comments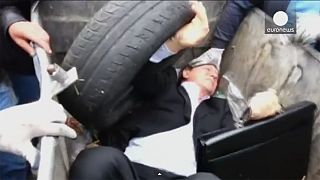 This is the moment an angry mob grabbed an MP and threw him in a rubbish bin.
The group, screaming curses and insults, hurled Vitaly Zhuravsky into a large waste container outside the Ukrainian parliament in Kyiv.
A protester pinned down a shaken Zhuravsky by his head, preventing him from escaping. He had his briefcase and a tyre thrown at him.
Zhuravsky was a member of former president Viktor Yanukovich's Party of the Regions. He was behind a bill in January which tightened restrictions on anti-government protestors. He has also authored a bill criminalising libel.
The protest came on the day the EU and Ukraine signed a landmark political and trade agreement.
It was Yanukovich's decision not to sign a similar agreement last year – instead agreeing a deal with Russia – which sparked a revolution and his downfall.