Oscar Pistorius murder trial verdict: judge clears athlete of murder
Comments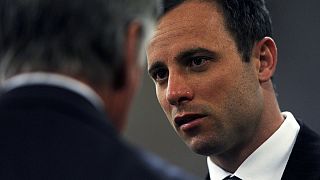 Prosecutors have not proved beyond reasonable doubt that Oscar Pistorius is guilty of premeditated murder, it's been confirmed.
Judge Thokozile Masipa, giving her verdict in the six-month trial, cleared Pistorius of murder.
She will later comment on whether he is guilty of the lesser charge of manslaughter or culpable homicide.
The athlete broke down in tears as Judge Masipa read out her conclusions.
Earlier she had said Pistorius was a "very poor witness" who contradicted himself under cross-examination.
In other comments, Judge Masipa said:
* Pistorius was "evasive"
* She disagreed with defence claims he lacked "criminal capacity" when he shot Reeva Steenkamp
* There was "some doubt" whether a woman screamed on the night of the shooting, citing "contradictory witness testimony".
Pistorius shot dead his girlfriend Steenkamp, a model and law graduate, on Valentine's Day last year.
Prosecutors had been pressing for a verdict of premeditated murder.
Pistorius claimed he shot Steenkamp in a tragic accident, believing she was an intruder.
Steenkamp, 29, was shot three times through a toilet door by Pistorius at his home in Pretoria on February 14, 2013.
Judge Thokozile Masipa has copme to a verdict with the help of two legal assessors. Trial by jury was abolished in South Africa under apartheid in 1969.
Pistorius, nicknamed the 'Blade Runner', became the first amputee to compete in the Olympics in 2012.
Born without a fibula in either of his legs, he had them amputated below the knee just before his first birthday.
He was not introduced to athletics until he was 16, when he began wearing a lightweight carbon fibre running blades.
He won a 200m gold at the 2004 Paralympics in Athens. He missed the cut for the 2008 Olympics in Bejing, before being knocked out at the semi-final stage of the 400m contest in London four years later.