Ebola 'fast-track' strategy under WHO scrutiny in Geneva
Comments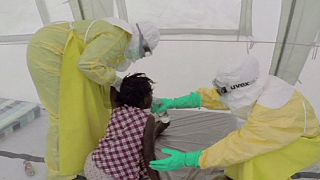 Six months after the detection of the deadly Ebola virus outbreak in West Africa, some 200 experts from the World Health Organisation (WHO) have come together in Geneva; they will attempt to establish a global strategy to halt the transmission of Ebola, care for the suffering, protect the populations at risk and contain it.
No cure or specific standardised treatment had been found before this outbreak; vaccines are in the experimental stage, raising ethical questions of how soon they might be used and logistical questions surrounding their production and possible distribution.
Meanwhile, the virus is catching faster. Of 3,500 declared cases in the space of this week, the WHO says, 1,900 people died. There were 3,069 cases last week, when the death toll stood at 1,552.
The virus is more than health systems in the countries affected can cope with — lacking trained personnel and medical supplies and facing a public bewildered and confused by the instructions they are given. More than 120 care workers are among the dead. Even feeding patients is a challenge.
In Monrovia, capital of the most severely infected country Liberia, a man under quarantine left confinement to seek food in a market and then refused to cooperate. He was physically overpowered and reconfined.
Sierra Leone and Guinea are the next-worst hit. Then comes Nigeria. Senegal has declared its first exposure.
The WHO warns that the epidemic could potentially claim 20,000 lives, in ten countries at risk. The member states of the African Union plan to meet after the weekend to decide on common strategy. They will study whether to suspend aviation and close ports and borders, measures which are expected to make life even harder for those in Ebola-struck areas.
We sought the expert opinion of Dr Edward Wright, of the University of Westminster, on the gathering in Geneva.
Nial O'Reilly spoke with him about the reports that the rate of infection is accelerating.
O'Reilly asked: "Is this conference coming a bit too late?"
Dr Edward Wright, University of Westminster: "It's certainly not too late. Any extra measures that can be put in place to limit the further spread of this virus and the disease it causes is obviously going to be a good thing that comes out of this conference. It should be said, though, that this is an unprecedented outbreak. It has more than doubled the number of deaths caused by this virus since it was first identified forty years ago. We haven't had such an outbreak to deal with before. We are all — as scientists, clinicians, doctors, public health experts — we are all learning about this outbreak and are trying our best to control the disease."
"How concerned are you as a scientist by this crisis, which is, as you say, somewhat unprecedented?"
Wright: "When you put that in the context of other diseases such as malaria, killing 800,000 individuals each year, and HIV, the virus that causes AIDS, that [kills] 1.6 million people each year, it really shows that this virus is something to be aware of and obviously it is a devastating disease, but simple intervention and infection control strategies can control the spread of this infection."
euronews: "What are the risks involved in the fast tracking of vaccines, and are they worth taking in this case?"
Wright: "All vaccines, all drugs that are brought too market and used to treat human infections and human diseases go through a process of regulation that is strictly controlled. Now, in cases of a public health emergency such as what we are facing now with this Ebola virus disease, we sometimes implement the so-called fast tracking of experimental drugs and vaccines that have been in development for a number of years. We already know a lot about these vaccines and anti-viral drugs that can be used to judge how quickly we can fast-track these for human trials."
euronews: "You have knowledge of the treatment that was used on the British nurse who was just released after contracting Ebola, what can you tell us about his treatment and how effective it was?"
Wright: "Fifty percent of people in Africa who have contracted this disease have survived, based on basic rehydration and palliative or supportive care measures. The British patient William Pooley who has recently been released from Royal Free Hospital, in London, he received this so-called secret serum, which is a cocktail of antibodies that target the virus. In the current outbreak, seven individuals have been given this treatment, five of whom have survived, two of whom still succumbed to the infection. But as I mentioned, we are seeing a fifty percent survival rate of people who don't receive this treatment, so it is still very much a question that is open to discussion how effective this ZMapp treatment is, or these possible vaccines which are under development."