Newsday August 4: 7-hour Gaza truce ends; bus attacked in Jerusalem; hundreds dead in China earthquake
Comments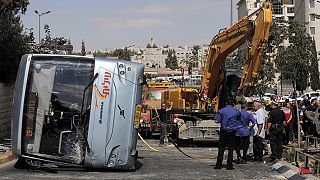 We have now closed the live update service for the evening before starting again tomorrow morning. We hope to see you there! Here's a summary of Monday's main events:
There was more misery in both Gaza and Israel despite the announcement of a seven-hour humanitarian ceasefire in most of the Gaza Strip. The Palestinian side claims Israel shelled a refugee camp near Gaza City, killing an eight-year-old girl and injuring dozens of other people. Israel insists Hamas broke the ceasefire agreement by continuing to fire rockets and mortars into Israeli territory from Gaza. The Israel Defence Force announced it was resuming its offensive once it expired at this afternoon.
In an attack in Jerusalem, one Israeli pedestrian was killed by an excavation lorry that Israeli police say was driven by a Palestinian from East Jerusalem. The digger then upended a bus that was not carrying passengers. The driver of the digger was shot dead at the scene by police. Also in Jerusalem, a man shot and wounded a soldier near the Hebrew University area before fleeing on a motorcycle.
Chinese officials say at least 398 people are confirmed dead after a magnitude 6.3 earthquake in Yunnan province.
Around a hundred people are still missing after a ferry capsized in a river near the Bangladeshi capital, Dhaka. Two female passengers are confirmed dead.
Scroll through the posts below to see how the day unfolded.