Spanish police arrest suspected Colombian crime lord
Comments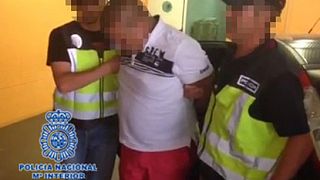 Police in the Spanish region of Alicante said on Saturday they had arrested a 40-year-old man who they identified as the head of the military wing of a violent Colombian drug cartel and one of Colombia's most wanted criminals.
The Interior Ministry said the man, known as "Raton" (Rat in Spanish), runs a network of more than 200 people involved in extortion and cocaine trafficking to Spain, the United States and the Netherlands.
His organisation, La Oficina de Envigado, inherited the business of the Medellin Cartel, the now-defunct drug trafficking empire set up by Colombian drug lord Pablo Escobar, the ministry said.
Arrested on Friday after a month-long hunt in a joint operation with Colombian police, he is accused of homicide, forced displacement and manufacturing and carrying of illegal weapons, the ministry said.
"He took a number of security measures in an attempt to avoid arrest, including constantly changing addresses, changing telephones and using different false identities," it said.
The man was holding over 40,000 euros ($54,100) in cash when he was arrested, the ministry said. He is subject to an extradition order by the Colombian police, it said.
Source Reuters