France: 'Racist' former politician to appeal prison sentence
Comments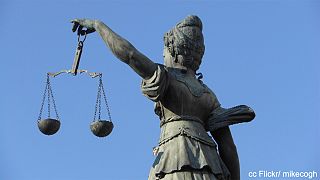 Anne-Sophie Leclere, a right-wing French politician sentenced to nine months in prison for comparing France's Minister of Justice to a monkey, will appeal her conviction.
The ex-candidate for the Front National party was also banned from working in politics for five years and given a 50,000 euro fine.
In October 2013 Leclere caused uproar throughout France when a photo was posted on her Facebook page comparing Christiane Taubira to a monkey. Her actions provoked a criminal investigation and her ultimate exclusion from the right-wing Front National.
The former politician also commented on the image, saying: "Ultimately, I prefer to see her in the branches of a tree than in government."
She defended her actions. "This photo was a joke. The image was posted on my Facebook page and I deleted it a matter of days afterwards. I didn't create it," she argued.
The Front National issued a statement condemning the actions of Leclere. "(Her) opinions are contrary to the values the party defends," it read. The party was issued with a 30,000 euro fine.