Watch: rare 'waterspout' twisters strike off the coast of Norway
Comments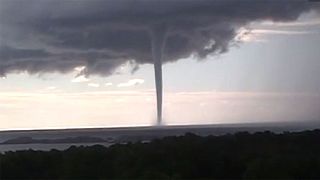 These are the rare twisters that have been causing surprise among Norwegians.
The mini tornados were spotted off the southern coast of Norway, near Arendal, and their number and ferocity are reportedly unusual.
Espen Bierud, of Norway's Institute of Marine Research, told www.thelocal.no: "Many people standing around me said they'd never seen anything like it Norway."
The force of the tornados was such that water was being sucked up off the surface of the sea.
State meteorologist Arild Mentzoni, reported www.newsinenglish.no, said twisters were rare in Norway.
Mentzoni, speaking to Norway's NRK channel, added: "It rotates so powerfully that it pulls in the water surrounding it.
"It is not unusual that we have what we call a waterspout, but they are not often as strong as it appears in these photos."
For more videos see euronews' YouTube channel.