Speed: Normality returns to the Formula 1 Grand Prix
Comments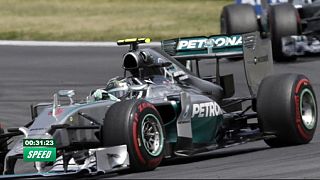 The Formula 1 world championship is back to normal. Mercedes stormed into Red Bull territory to completely dominate the Austrian Grand Prix.
Nico Rosberg celebrated his third win of the season with another clear demonstration of Mercedes' prowess. While Williams dominated during qualifying, it was all about the German team when it mattered.
Lewis Hamilton finished second and Valteri Bottas grabbed his first Formula 1 podium to take third.
But Sebastien Vettel still hasn't woken up from his nightmare. He was once again forced to abandon with engine problems and is now more than a hundred points behind Rosberg in the standings. The Mercedes driver is getting lonelier at the top.
There are no rivals for Mercedes in the team standings, either. The team has more than double the points of Red Bull.