Watch: one of world's rarest whales captured on camera
Comments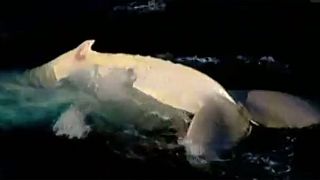 One of the world's rarest whales has been filmed off the coast of Australia.
The mammal – a male all-white humpback – is making its migration along the southern coast, according to reports.
The whale, called Migaloo, is so popular in Australia there is a law designed to protect him from harrassment.
Migaloo was seen around 8am on Tuesday off Green Cape in New South Wales.
Migaloo, first spotted in 1991, was thought to be the only one of his kind. But in 2011 a white humpback whale calf was spotted by researchers and was unofficially named Migaloo Junior. They are the only two white whales currently known to be in existence.
The popular whale even has a Twitter account dedicated to him – follow @migaloo1 for more information.