Watch: Drama as off-duty cop saves man from petrol pump blaze
Comments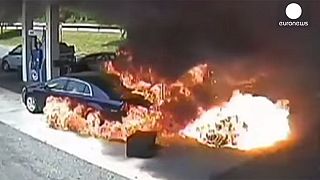 This is the dramatic moment an off-duty police officer rescued a pensioner from a blazing petrol forecourt.
John Vescio, who works in New York City, was filling his car when the 69-year-old's Toyota smashed into the adjacent petrol pump, according to local reports.
The footage shows fire engulfing the petrol pump, initially prompting Vescio to flee. But he quickly returned to save the man, moments before the fire spread and intensified.
Vescio, speaking to The Journal News, said: "It happened so quick. It was hard to think. I pretty much just reacted."
Dominick Chiumento, state police captain, said: "Despite Senior Investigator Vescio's own injuries, he remained focused and committed to saving the life of the operator of that Toyota. If not for his swift response, the situation could have turned much worse."
Vescio was treated and later released from hospital, while the other man was taken to Westchester Medical Center in Valhalla, reports CBS New York.