Heavy heart? Paris bridge panel falls under weight of 'love locks'
Comments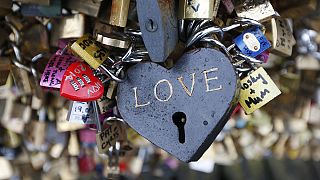 A bridge was evacuated and closed off in Paris after a section collapsed under the weight of lovers' padlocks.
Couples have been attaching them to the Pont des Arts and throwing the key into the Seine as a romantic gesture.
Around 2.40m of fence collapsed inwards – rather than into the river – late on Sunday afternoon, police told AFP.
The pedestrian bridge, which links the Palais du Louvre and the Institut de France, was re-opened later on Sunday (June 8) evening, according to the mayor of Paris.
The collapse comes after two US women – Lisa Anselmo and Lisa Taylor Huff – launched a campaign for the love locks to be removed.
Their petition has attracted around 7,000 signatures.
A blog post accompanying the campaign launch reads: "The delicate Pont des Arts has become a freakish glut of indistinguishable metal lumps, and worse, is now in mortal danger. Poor, lovely bridge.
"And what about all those keys you're tossing into the Seine? Did you think about that, my tourist lovebirds? That can't be good for the health of the river. But what do you care? It's not like you live here; it's just a photo op [sic] to you.
"To sum up, dear travellers from other lands, kindly unlock your love and lift the weight of it from the shoulders of the Parisians. Save Paris's frail, old bridges. That's a much more loving act, don't you think?"
Multimedia gallery